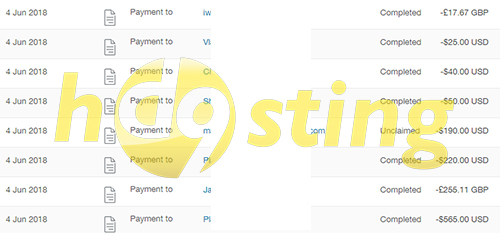 The D9 Hosting affiliate program allows you to earn lucrative commissions for each new customer that you refer to us.
Our hosting affiliate program is over 10 years old and we've earned a stellar reputation for providing affiliates with "hassle free" commissions. We treat all of our customers how we'd want to be treated ourselves and go the extra mile to provide them with the best hosting experience possible which ultimately means that you get to earn more commissions as our cancellation rates are very low.
All sales and statistics are tracked and updated in real time by our affiliate management system. We pay some of the best commissions around for hosting, take a look at the table below for full details.
Product

Commission Amount

D9 One
$25
D9 Max
$40
Multi Site Hosting
$50
Reseller Hosting
$50
Virtual Private Servers
$100
Dedicated Servers (US & UK)
$160
All commission amounts are set in US Dollars but if you'd prefer to be paid out in pounds sterling you can choose this option during sign up. If you opt to be paid in pounds sterling the payout amount will be converted from USD to GBP using the exchange rate on the day of the sale.
We pay out thousands of dollars in affiliate commissions each and every month, as you can see from the table above the potential to earn some extra income from D9 Hosting is huge.
All commission payments are one time payments (not recurring), and commissions are held in "pending" status until the referred account has been active for 63 days to cover our money back guarantee period.
We provide you with a unique affiliate link that is used to track all of your sales in real time, we pay all commissions on the 1st working day of every month and all payments go straight into your PayPal account!
How Do I Sign Up?
Existing D9 Customers
Existing customers are automatically signed up to the D9 Hosting affiliate program - simply log into your client area and click on the "Affiliates" link. You will then see a large green button that says "Activate Affiliate Account", click on this button and you'll be able to access your custom affiliate link and promotional tools.
Non D9 Customers
If you are not currently a D9 Hosting customer but would like to promote our service, please follow the instructions below:
1. Sign up for a FREE D9 Hosting customer account by clicking here.
2. Click on the "Affiliates" link.
3. Click on the "Activate Affiliate Program" button
4. That's it! You will now be able to view your unique D9 Hosting affiliate link and use our promotional banners to display on your website.