If your website is currently loading insecurely via HTTP then get ready for a decrease in traffic starting in 2017.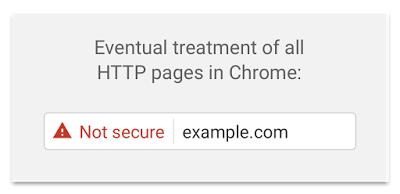 It sounds a bit dramatic, but this is what will happen to your websites if they aren't loading securely via HTTPS. This is because Google have announced that they will be labelling all websites as "Not Secure" if they don't load securely via HTTPS.
Initially, they will roll out this warning message in January 2017 to websites that collect Passwords and Credit Card details over an insecure connection and will then begin rolling out the warning to ANY website that doesn't load via HTTPS.
So How Do You Prepare For SSL Armageddon?

First of all, we are providing all clients with FREE Self Service Comodo SSL Certificates for ALL domain names that are hosted with us, this takes away the need to spend a fortune on SSL Certificates. These SSL Certificates are already available to you and are ready to use. You'll be able to confirm this by logging into your cPanel and clicking on the SSL/TLS icon.
However, just having an SSL Certificate installed doesn't mean that your website is going to automatically start to load securely via HTTPS!

If you try and visit your website via HTTPS you will likely still see it loads without displaying the green padlock in your browsers address bar - the green padlock indicates the page has been served securely and this is what you need to be aiming for to avoid getting your website flagged as "Not Secure" by Google.
To get the green padlock to appear this means all elements on your page (style sheets, images, javascript, etc) need to be loaded securely via HTTPS rather than HTTP. So you, or your web developer, needs to manually edit your web pages and databases (if applicable) to pull all content via HTTPS rather than HTTP. You then need to redirect all traffic to HTTPS and ensure that ALL pages on your website are loading correctly via HTTPS...
...OR You Could Let D9 Do It For You!

Take a look at the following video to see our Co-Owner, Paula Brett, talk you through the Google SSL changes and how D9 can help you avoid getting your website flagged as "Not Secure" by Google.
The D9 "Done For You" Package
As Paula mentioned in the video, unless you are an experienced webmaster and fully understand the way websites work when it comes to serving content securely then you may well find yourself punching your computer screen in rage when it comes to the task of trying to get EVERY one of your web pages to load securely!
That's why we are taking the stress away from you by offering to make EVERY page on your website compliant with the Google SSL requirements. Why spend hours, days, weeks or even months trying to do a task when you can save A LOT of time, effort and stress by having the team at D9 do EVERYTHING for you.
This includes:
Ensuring the SSL Certificate has been set up correctly


Editing the source files of your website to ensure all elements are being loaded via HTTPS


Edit your database (if applicable) to ensure all elements are being loaded via HTTPS


Check EVERY page on your website to ensure they are loading correctly via HTTPS


Redirect all traffic to the new HTTPS version of your website


Perform a final check on your website to ensure it is fully compliant with Google's SSL guidelines


You're now Google compliant and visitors wont see an "Insecure Website" warning when visiting your site!
How Much Does It Cost?
Not as much as you might think!
The price starts at $34.95 for one website and if you have multiple websites to convert then we offer a sliding pricing scale. You can view the full pricing details in the table below and it usually takes us no more than 24 hours (Monday to Friday) to fully convert a website to load correctly via HTTPS.
| | | |
| --- | --- | --- |
| Number of websites to convert | Price | |
| One | £29.95 | |
| Two | £56.90 | |
| Three | £80.85 | |
| Four | £101.80 | |
| Five | £119.75 | |
| Six | £134.70 | |
| Seven | £146.65 | |
| Eight | £155.60 | |
| Nine | £161.55 | |
| Ten | £165.00 | |
| Eleven + | Contact Sales | |
Is There A Guarantee?
Yes!

In the unlikely even that we are unable to fully convert your website to load securely via HTTPS (we have yet to find one we haven't been able to convert!) then not only will we provide you with a full refund but we will also provide you with one month's free web hosting as well, so we really can't be fairer than that.
So don't delay, have D9 Hosting convert your website to HTTPS today and by this time tomorrow you'll be safe in the knowledge that your website wont be listed as "Not Secure" by Google Chrome and that your website's visitors will be able to browse your websiites knowing that they are doing so over a secure, encrypted connection.